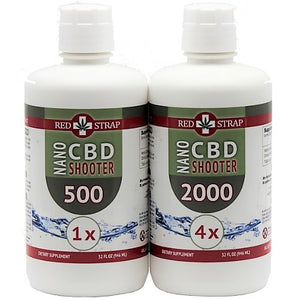 RedStrap Nano CBD Concentrate
Regular price $199.95 $49.95 Sale
Dose of Nature's Nano Shooter Concentrate is a clinical grade, water-soluble tincture with gently blended broad-spectrum hemp extract in organic vegetable glycerin flavored with natural french vanilla.
This product is the Nectar combined with the nano-amplified water.
The Nano CBD Shooter 1X is hands-down, the most amazing Cannabidiol product on the market, taking advantage of multiple new technologies to deliver a potent and truly unique natural CBD supplement which is rapidly bioavailable, no harsh taste, and water soluble, while still maintaining the balance of the full entourage effect of natural hemp extract.
WATER SOLUBLE      THC-FREE      QUICK EFFECT     POTENT
Delicious to take orally, or feel free to add to your favorite beverages.  It dissolves easily without any separation in the liquid.  
Hemp Nano Shooter Concentrate is available in 2 concentrations:
500 mg - 16 mg / serving
2000 mg - 63 mg / serving
Dose of Nature utilizes the BioPulse Labs BioAmped Technology to amplify the time to impact and effect of the Hemp Extract.  We use solvent-free, non-GMO hemp extract, and we sincerely believe our Hemp Products are the purest, cleanest, and most bio-active products in the market.  Dose of Nature products go through rigorous 3rd Party testing for potency and safety.
If you are looking for the amazing natural benefits of Hemp Extract, the products offered at Dose of Nature will give you the best chance of positive results.
Quality passionately matters to us, so if it matters to you, trust the products at Dose of Nature.
Product Information

Product Size: 32 fl oz (946 ml)
Serving Size: 1 fl oz (1 cap full)
Servings per Bottle:  32
Usage:  Shake well before use. Take orally as needed, normally 1 serving in the morning and 1 serving in the evening.  
Ingredients: Ultra-pure water, organic vegetable glycerin, BioAmped Hemp Extract, proprietary blend of natural gums (arabic, carageenan, xanthan, locust bean), natural French vanilla flavor, sodium benzoate, potassium sorbate, citric acid to maintain freshness.
Cap on the bottle is roughly 1 ounce. You can fill the cap with fluid for convenient dosing and dispensing.
Shake well before use. As a dietary supplement, take 1 ounce orally 1 – 2 times per day as needed. The cap on the bottle is roughly 1 ounce, so you can fill the cap and dispense from there. For particular needs and conditions, this amount can be doubled to achieve desired effect. Most individuals can feel the effects of CBD within minutes of ingestion. For ultimate relief from various health conditions, allow for 2-3 weeks to evaluate the effect of CBD. You may have to increase the dosage slowly for desired effects.